About the Ride for Angels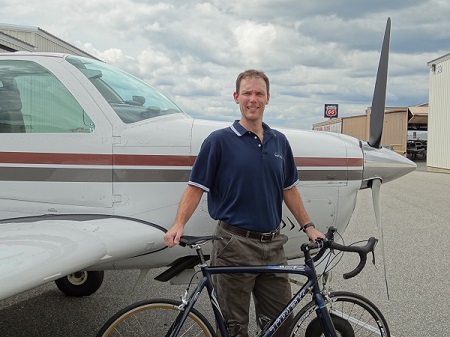 My name is Scott Havemeyer and I am the creator and organizer of the Ride for Angels event. I am also a Physical Therapist, avid cyclist and most importantly a very proud father of twins - a boy & girl. I get asked regularly why I took on this significant challenge. Here is a little background.
In the summer of 2009, I started treating Larry Camerlin, the founder and President of Angel Flight NE. The more we talked the more I learned about Angel Flight NE. I was blown away. I was inspired by the countless volunteer pilots and "Earth Angels" that dedicated their time and resources to allow people to access the medical care they desperately needed.
The following March I learned that my aunt on Nantucket only had a day or two to live. I spent multiple summers living with her as a youth and had formed a very close bond over the years. Her very aggressive cancer had spread much quicker than anticipated and I desperately wanted to see her. One problem that I had was leaving my wife and 6 week old twins home alone while I traveled by car and ferry to see her. I could not afford to be gone very long. I called Larry for help.
He informed me that Angel Flight NE would be happy to help. They routinely did "compassion flights". The following day I was flown down to Nantucket by Larry himself. Unfortunately I did not make it in time. My Aunt passed away earlier that morning. I did however take great comfort in being around my family for the day.
This experience gave me a firsthand look at the kind of difference that this great charity makes in people's lives. I wanted to help in some way. As an avid cyclist I had ridden in several different charity events in the past. Some of them I had raised several thousand dollars for their cause. My wife suggested the idea of donating my future fundraising efforts to Angel Flight NE as a way of giving back. The problem was that they had no ride or event that I could fundraise for. So, I decided to create one. At first the thought was to grab my two brothers and some ridding buddies to do a ride some Sunday morning. Then I decided I would ask around and see if anyone wanted to join us. This quickly grew in scope and magnitude. Less than 4 months later the First Annual Ride for Angels event took place. We ended up with 53 riders and raised close to $8,000 dollars.
Our goal is to continue the Ride for Angels event as a marquee fundraising event for Angel Flight NE as well as a widely known and respected charity ride throughout New England. We are certainly well on our way of reaching that goal. In 2017, the seventh annual event had 250 riders and rose just over $65,000. Last year, we rose nearly $90,000. Now in its 10th year, our goal is to surpass $100,000 - with your help and support we can do that!
We want to keep the growth going and could use your help. Please consider joining us on September 13th. Together we can "change lives one mile at a time".
Thanks for your time reading this and we hope to see you in September.
Scott
spy offers | Marki